Scenic Display Bases
Before we go into Scenic Display Bases in general, I would like to highlight one of our best and most sophisticated display- projects which we have released until today: The Russian PAG Type tarmac.
Its a great example in many regards and many things mentioned in this article are valid for our entire range. If you would like to skip this part, just scroll down to the next large header.

We have four main features making this particular product absolutely outstanding
1.) The scope of delivery
2.) The phantastic and incredibly realistic artwork
3.) The excellent printing quality
4.) The variety of versions
1.) Scope of delivery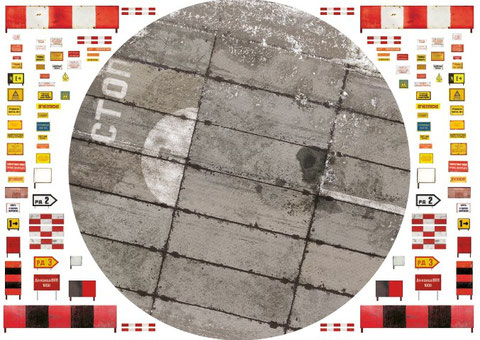 Do you see all the signage? All of our PAG versions come with it. We were clear about signage needs to be a part of it. While assembling the artwork, we found that we absolutely can fill all the available space with signage. These parts can be modified easily into 3D objects by putting them onto some stronger cardboard and attach some rod as posts. It makes a quite vivid scene once you have that all arranged around your model.
2.) The realism of the artwork
I think its not neccessary to say much about the images you are looking at right now. Just check out how nicely we captured all relevant and characteristic detail of a Russian PAG tarmac. Its just awesome, isnt it?
3.)The excellent printing quality
Well that is something that is hard to bring accross online because: I dont know how good your screen is. :-)  All I can say is that I am not that kinda guy who has a top notch artwork but prints it poorly. Nad goinna happen.
You wont be disappointed, trust me. Thats not how we work over here.
4.)The variety of versions
Ou yeah, there are plenty. We have 3 versions in the 72nd scale and 3 versions in the 48th scale. There is always a
Rectangular Version
Circular Version
Blast Wall Edition
Rectangular and Circular is quite self-explaining but the that blast wall thing needs a few comments, I guess.
The blast wall editions include extra slabs in order to create a blast protection wall on the side of your display or on the rear end, as can be seen on these images for instance.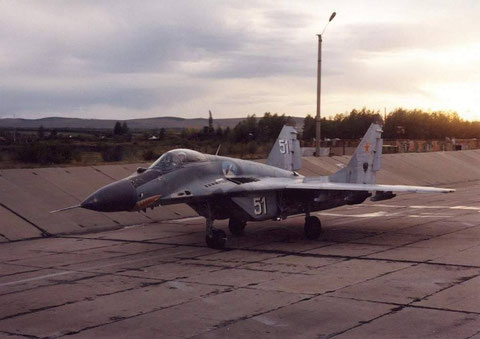 So, if you got for the blast wall editon, you have your tarmac, your signage and the blast wall, all in one package. Thats a great base to start from for making a nice scene, if not an entire diorama.
I wish you tons of fun with the product.
Thanks for your attention
Now lets check out the Western world a lil bit:
General remarks on the entire range
 General Features:
Made in co-operation with one of the world´s most accomplished artists and aviation enthusiast and terrific scale modeler,  the one and only Mr. Slava Trudu
"Smart Puzzle for artworks larger than A4. We separate the artworks along its natural lines and borders (slabs) so one can assemble it without having irritations within the artwork.
Can be used "straight from the bag" for photo or display projects. It also can be used as a great point to start from at diorama projects.
Photorealistic reproduction of real sites and places. We dont make stuff up. Sersiously not.
Some of our products come in what we call "Uni Scale". The reason for this is that, concrete slabs for instance, do not really have a reference in terms of size. Damages, such as cracks for example, also do not really have a reference.
Of course there are limitations but there is also plenty of leeway. The old Concrete is a perfect example for this. Please check out a detailed step-by-step sequence here.
Apart from that, we currently offer 72nd and 48th scale only.
I know its pity but there are technical reasons for this. Thing is: A 32nd scale base is so large, it will require an expensive packaging and will cause high shipping cost. If we split the artwork "smart puzzle", we will have quite a lot of pages and would lead to a crazy selling prize. See the dilemma? But....lets just wait a lil bit...we work on it....
Example of Accuracy: Carrier Decks
All our products are absolutely accurate. We dont make things up. We put large efforts in research and if we do not have a satisfying amount of source materials, we postprone the project until we got what it takes to make it accurate. A great example for this is the carrier decks we have: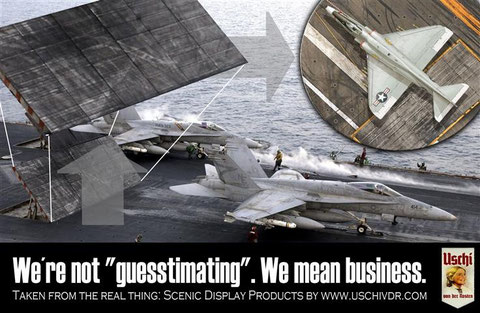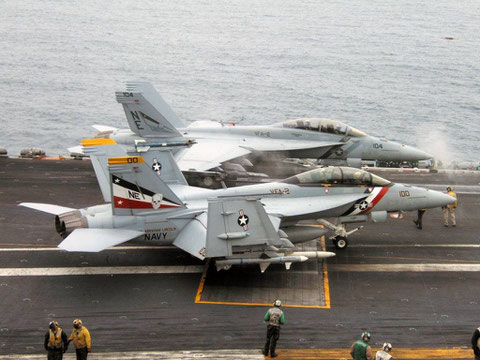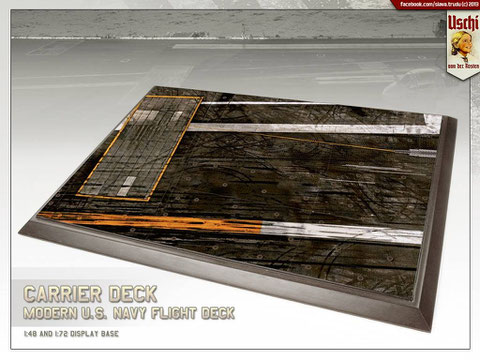 Accuracy: Airfield Tarmac
Not only at sea we mean business. Our airfield tarmac textures are also taken from the real thing. Miramar MCAS is a very good example.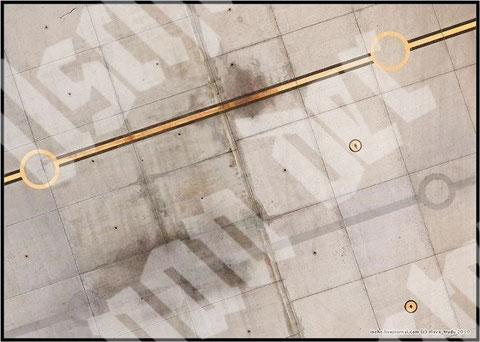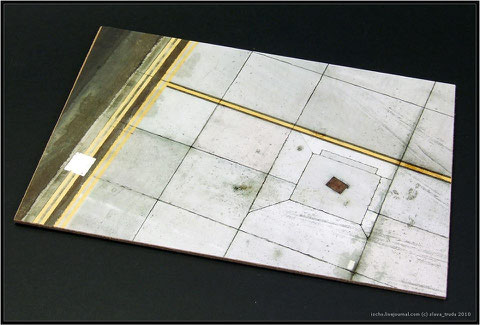 Yep, we also got some Russian stuff... :-)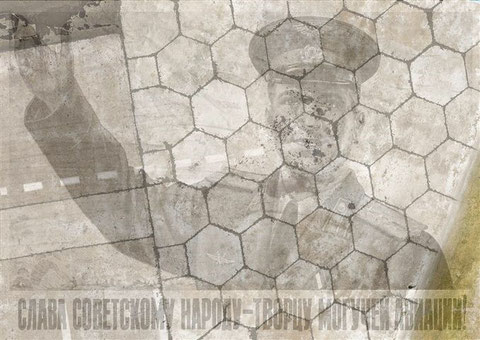 Conclusion