BLITZ ME, BABY!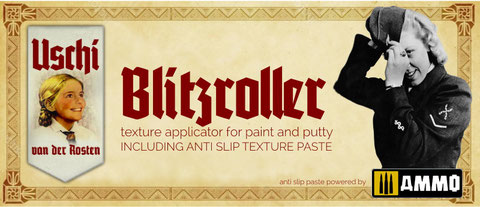 BLITZROLLER
A detailed description can be found here.

Content:
10x rolls of solvent resistant foam
1x handle
1x magnetic tube (preventing the roll from sliding off the handle during use)
1x cleaning sieve
1x AMMO Anti-slip paste FINE AMIG2034
BLITZROLLER liquid media applicator
0,12 kg
in stock / am Lager
shipping within 3 - 5 Working Days1
Blitzroller replacement rolls
Set of 6x replacement rolls for 4015 Blitzroller
Rolls for Blitzroller
0,02 kg
in stock / am Lager
shipping within 3 - 5 Working Days1
WELCOME TO PEENEMÜNDE!
PEENEMÜNDE engraver/scriber/center-punch
The Peenemünde multi tool is a precision instrument for fine scribing, engraving and center-punching. The instrument is including two tips, one fine tip center-punch and a triangle shaped punch with sharpened edges. An Allen key is holding all into place. The tool is designed for making corrections and cleaning work of all kinds of resin and plastic. Removing unwanted flash or excess glue, recovering a lost rivet hole or a lost panel line, adding a small hole for mounting delicate detail... for tasks of this nature the tool has been designed. It´s a reliable bench buddy which you dont wanna miss once you know him. Stay in the flow and fix smaller problems the easy way with this precision intrument.
PEENEMÜNDE instrument
soon available again / ausverkauft, in produktion
Drill Set 10x0.35mm for spring action pin vise
10 x 0.35 drill bit set for being used with the spring action pin vise
soon available again / ausverkauft, in produktion
Trusty ol´ Dymotape for the win.
Its sticky, is flexible. You can cut it into circles or punch holes in it. You can cut it lengthwise in order to double the "straight edge" you need for guiding your scribing tool. Dymotape can also guide your rivet wheel when you really need to have it straight. These and more properties make Dymotape a trusty bench-buddy.

Dymotape Black 3m x 9mm
Flexible Scribing and Riveting guide. Available in three colors. If you are looking for a specific color, please let us know in the comment section on your order. We´ll absolutely try to comply with your wish. Not that it makes a technical difference, but...you know....if we have your color....why not?
soon available again / ausverkauft, in produktion
The X-tra Touch
Highlighting detail is a frequent task on our way. Sometimes the tiniest tip in our collection of brushes isnt thin enough. Another topic while using brushes is the flow of paint. I think all of us have been on a point on which we intended to apply "just that lil touch right there...." and "whoops" that was a bit too much of it.
Control is key. We want to have the right amount of paint, exactly where we need it. Thats when we should consider using a pen rather than a brush.
Another nice feature would be removability, wouldnt it? Yep, thats right so here we go:

controllable

removable

good coverage

As said, the paint of this pen is removable for like 30 minutes. After 3 minutes you should seal the highlights with some clear varnish. I use Acrylic varnish but you should be able to use any kind.
Once the clear varnish is dry, you can go back on it and mess around with pigments or pin washes or what ever you need.
Please consider this pen also as an option for chipped paint. The slow-dry-properties of the paint allow you to "soften and blend" the chips you just have painted. Here comes a few examples for application.

Edding Highlighting Pen Set, Silver Gold Bronze 0.7mm tip
I´ve tried many of these pens, but this one pleased me the most. Controlable and removable paint, right where you need it. Don´t take the 0.7mm too serious. Thats just the diameter of the ball-point. You decide by pressure how much paint comes out.
Metallic Pens Set, Gold Siver Bronze
soon available again / ausverkauft, in produktion
Highlighting and Accentuating Pen. 1.0mm ball. approx 0.6 mm dots/line.
This one here is releasing more paint, creating tiny "domes". Can I tell you something? I know it sounds odd when I say this but honestly: Take the set above and this one right here and you´re fully set. Sometimes you need some more paint, sometimes less, so... the key is in the mix.
Highlighting Accentuating Pen Silver
soon available again / ausverkauft, in produktion