"Blitz Dry" Drying time accelerator for oil paints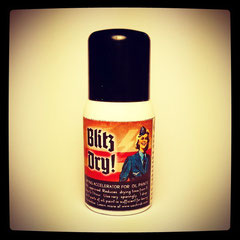 Releasing this product has been a true fight, lemme tell you that. Sourcing issues, shelf life issues, packaging issues....you dont wanna know it. But I didnt give up. I gave it a rest sometimes, yes, but I never gave up. Now we have it all sorted. Minions are busy with serial production. But what is it actually? If you squeeze oil paint out of the tube, and even if you put it on cardboard for a while, it takes you up to 5 days until it cures and you can seal it with clear. This product reduces this time down to 3 hrs until you can seal it with clear in order to apply decals for example. Cool, hugh? ;-)

Application
Just use it like your turpentine based thinner. Squeeze the paint out of the tube and add some drops until you have the consistency desired. Its perfect for the rendition of wood using a glaze technique with oil paints. You keep all the positive properties of oil paint, such as translucency and time for corrections and you get rid of the negative properties like waiting 5 days until you can move on. After 3 hours the glaze is stabilized so you seal it. Its not completely chemically cured then. The curing process will go on. But you can touch it and, after sealing, mask on it and apply decals and so on. Thats the trick.

I recommend to run a test before life firing to get used to the properties. Please apply your glaze on a flat surface so the oil paint has a good grip.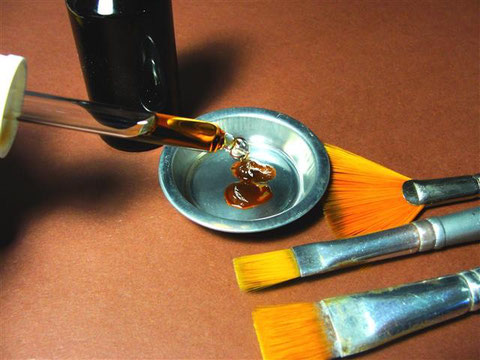 "Blitz Dry" 30ml
Drying time accelarator for oil paints.
in stock / am Lager
shipping within 3 - 5 Working Days1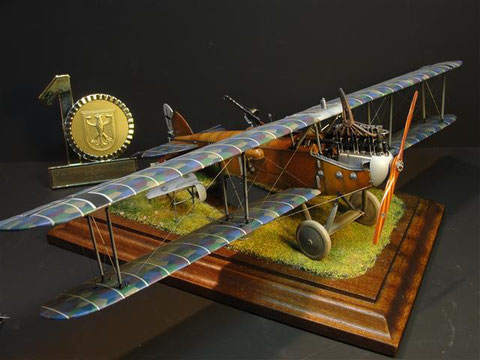 Burnishing Liquids
Some background
With a lil bit of pride Uschi can claim that she introduced burnishing liquids into the scale model world of products. No, we did not invented it. It was someone else who has not been able to ship to Europe. Shipping exceeded product cost and it was really, really hard to get. Uschi identified the potencial in it and the first intension was to feed German scale modelers and make the product available over here.
I have just checked when we actually took the first pictures of some results: It was back in 2011.
After a while we teamed up with AK-Interaktive and supplied this company. That was one of the first Business 2 Business projects we ever conducted.
Due to some changes on the AK Interactive side of the project, this co-operation has not been continued afternearly 18 month.
Uschi formed a new alliance with AMMO of Mig Jimenez and we supply this company to the present day. Beside that, we also supply Master Model from Poland with our brass burnishing liquid.
Now we also have a 250ml version with a very strong formula available.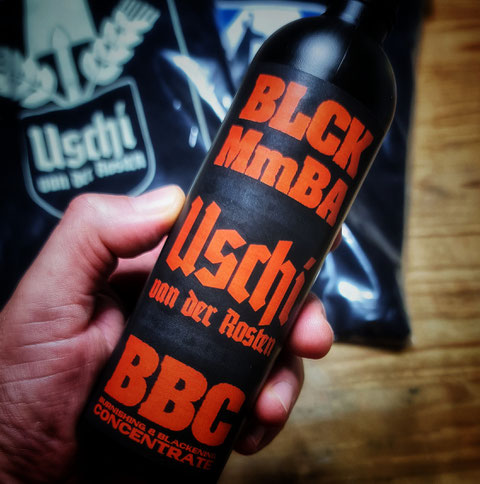 USCHI´s burnishing liquid BLCK MmBA WHITE METAL
STRONGER LARGER version of the successful Burnishing liquid. Can be thinned with water 1:1 for more comfortable bench -handling. Perfect for Masterclub and Friul White Metal tracks. Base price: 6,36€ /100ml
Friul Burnisher 250ml LARGER STRONGER
less than 3 on stock
shipping within 3 - 5 Working Days1
UVDR-1 Burnishing Agent for Friul Tracks 150ml
UVDR-2 burnishing Agent for Brass Barrels and Photo Etch. Instant blackening for your White Metal Friul-Tracks.
soon available again / ausverkauft, in produktion
UVDR-2 Burnishing Agent for Brass 150ml
UVDR-2 burnishing Agent for Brass Barrels and Photo Etch. Instant blackening for your gun barrels and photo etch pieces.
less than 3 on stock
shipping within 3 - 5 Working Days1