Making things easy: Rig that thing!
UvdR-3 "Rig that thing" Elastic Rigging
High elastic stretch rigging thread on a handy metal "Bobbin". 150Feet (45m). For aircraft, ships and everything that needs a proper rigging.

Please select your favorite size right here:
in stock / am Lager
shipping within 3 - 5 Working Days1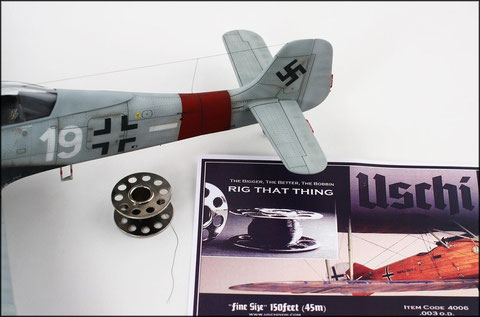 THREE GREEN Flexible Nose Weight
100g  unit of flexible Lead Clay/Putty. Assuming that around 10g fix the issue in most cases, this one is enough for 10 aircrafts. MSRP is 7,90€ so thats 0,79€ per aircraft. Not a bad deal if you ask me, especially considering that it really fits everywhere. The product is tacky so it only needs minor or no efforts to keep in place. More here.

in stock / am Lager
shipping within 3 - 5 Working Days1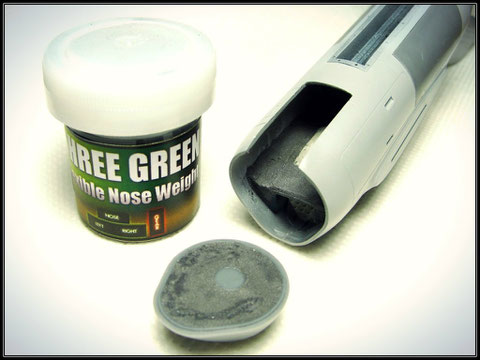 Car Stickers (Stencils)
How to apply.
These "stickers" are stencils actually. These are produced Miracle Masks (UK) using a cutting plotter. We have no transparent films or something like that. You as a scale modeler should have no problem to bring these onto your car.
Just clean your car real good, at least in the area concerned, using a windows cleaner for example.
Make sure we have no grease and dust on the scene. Then start removing the artwork from the paper for, say like an inch and fold the backing paper.
Stick the upper end of the artwork to the surface and slowly remove the backing paper. Keep it straight. If you dont you can adjust the splashes during application also, but keep in mind how you wanna have it on your car.
Make sure you have a blade ready to manipulate here and there if required. Its a 30-second affair. Have fun and send me a picture once you have it on your car! :D
Uschi stencil small (10cm / 3.9")
in stock / am Lager
shipping within 1 - 3 Working Days1
Uschi stencil large (15cm / 5.9")
in stock / am Lager
shipping within 1 - 3 Working Days1