Making things easy: Rig that thing!
UvdR-3 "Rig that thing" Elastic Rigging
High elastic stretch rigging thread on a handy metal "Bobbin". 150Feet (45m). For aircraft, ships and everything that needs a proper rigging.

Please select your favorite size right here:
in stock / am Lager
shipping within 3 - 5 Working Days1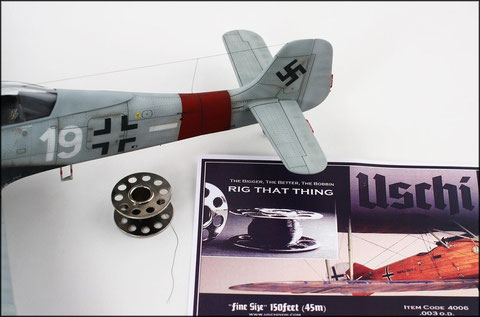 THREE GREEN Flexible Nose Weight
100g  unit of flexible Lead Clay/Putty. Assuming that around 10g fix the issue in most cases, this one is enough for 10 aircrafts. MSRP is 7,90€ so thats 0,79€ per aircraft. Not a bad deal if you ask me, especially considering that it really fits everywhere. The product is tacky so it only needs minor or no efforts to keep in place. More here.

in stock / am Lager
shipping within 3 - 5 Working Days1