German Duraluminum Manufacturer Alloy Codes
DESIGNED BY PETE HAMANN
I dont know if you have been waiting for this. I surely have. :-)))) When ever you pop that cowling open, you are having the opportunity to show off with these. When ever you are pushing for the extraordinary and artisan, get a boost by these.
Nah, seriously. It´s a good add on. When it comes to late war Luftwaffe these Alloy Codes are your friends. The codes were used in order to label lots and batches of aviation grade aluminum during production. Also on the customer side (the aviation industry) these labels made sure that that things aint got messed up.
I mean you can´t put a label on these batches of metal like the labels you would find in the panties department at Target, can you? Right. That´s why they labeled them with paint.
As far as the real deal is concerned, we´re not looking on a super precise and spot on print. We´re looking on a hastly applied code of temporary importance. We tried to capture this look as good as we could.
There is a large version as well as a small version, so what ever the size of your project might be, you´re Golden from now on.
Enjoy and have fun during your project. Stay safe and Peace!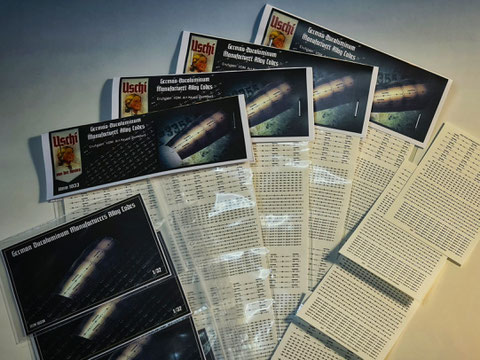 German Duraluminum Manufacturer Alloy Codes MAXI 1/32
Over 300 stencils from various manufacturers of the time.
Alloy Stencils 1/32 large
in stock / am Lager
shipping within 3 - 5 Working Days1

German Duraluminum Manufacturer Alloy Codes MINI 1/32
German Duraluminum Manufacturer Alloy Codes small version. Enzfelder, VDM, Art Krupp Berndorf / small set of over 100 alloy code stamps on 1xA7 decal paper
German Duraluminum Manufacturer Alloy Codes MINI
in stock / am Lager
shipping within 1 - 3 Working Days1