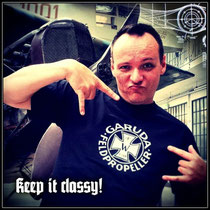 Yeah, ya better keep it classy my friend. The old manufacturer logos really had class. Influenced by contemporary arts and style, these logos certainly appear to be from a different world. In fact this is what they are: coming from a pre-internet era, all hand crafted using a sketch pad and a lead pen or maybe some charcoal. These logos stand for themselves. Unfairly they yellowed in some forgotten drawers for a long time. You can change that.
History
These T-shirts are printed in Germany by an old pre-Uschi-era business partner of mine, Mr. Sven Dietrich. I wasn´t aware that he meanwhile owns a T-Shirt printshop. A while ago, I checked my XING and "bang" I knew where to go. I always knew and appreciated Sven´s high standards in terms of quality and customer service. We talked a lil bit and teamed up again. Feels good to work with people you know for a long time.
Quality
These T-shirts are made using "Fruit of the Loom" high quality T-shirts. The print comes as a "rubber-like" coating, providing stability and long time durability. For now, they are available in L, XL and XXL. More sizes and colors are in the making and of course, more designs.
Garuda Propeller Black/White (V1)
Fruit of the Loom. White print on Black T-shirt. Available in L, XL and XXL. Please select your size in the checkbox below:
incl. VAT and free shipping to selected countries
Free shipping to the following countries: Albania, Andorra, Austria, Belarus, Belgium, Bosnia and Herzegovina, Bulgaria, Cyprus, Serbia and Montenegro, Switzerland , Croatia, Czech Republic, Denmark, Estonia, Faroe Islands, Finland, France, Georgia, Gibraltar, Greece, Hungary, Iceland, Ireland, Italy, Latvia, Liechtenstein, Lithuania, Luxembourg, Macedonia, Malta, Moldova, Monaco, Montenegro, Montserrat, Netherlands, Norway, Poland, Portugal, Romania, Russia, San Marino, Slovakia, Slovenia, Spain, Svalbard and Jan Mayen, Sweden, Turkey, Ukraine, United Kingdom, Vatican City Show more Show less
less than 3 on stock
shipping within 3 - 5 Working Days1
Garuda Propeller Black/White (V2)
Fruit of the Loom. White print on Black T-shirt. Available in L, XL and XXL. Please select your size in the checkbox below:
incl. VAT and free shipping to selected countries
Free shipping to the following countries: Albania, Andorra, Austria, Belarus, Belgium, Bosnia and Herzegovina, Bulgaria, Cyprus, Serbia and Montenegro, Switzerland , Croatia, Czech Republic, Denmark, Estonia, Faroe Islands, Finland, France, Georgia, Gibraltar, Greece, Hungary, Iceland, Ireland, Italy, Latvia, Liechtenstein, Lithuania, Luxembourg, Macedonia, Malta, Moldova, Monaco, Montenegro, Montserrat, Netherlands, Norway, Poland, Portugal, Romania, Russia, San Marino, Slovakia, Slovenia, Spain, Svalbard and Jan Mayen, Sweden, Turkey, Ukraine, United Kingdom, Vatican City Show more Show less
in stock / am Lager
shipping within 3 - 5 Working Days1
Garuda Propeller Blue/Black/White (V2)
Fruit of the Loom. White print on Black/White print on Blue T-shirt. Available in L, XL and XXL. Please select your size in the checkbox below:
incl. VAT and free shipping to selected countries
Free shipping to the following countries: Albania, Andorra, Austria, Belarus, Belgium, Bosnia and Herzegovina, Bulgaria, Cyprus, Serbia and Montenegro, Switzerland , Croatia, Czech Republic, Denmark, Estonia, Faroe Islands, Finland, France, Georgia, Gibraltar, Greece, Hungary, Iceland, Ireland, Italy, Latvia, Liechtenstein, Lithuania, Luxembourg, Macedonia, Malta, Moldova, Monaco, Montenegro, Montserrat, Netherlands, Norway, Poland, Portugal, Romania, Russia, San Marino, Slovakia, Slovenia, Spain, Svalbard and Jan Mayen, Sweden, Turkey, Ukraine, United Kingdom, Vatican City Show more Show less
in stock / am Lager
shipping within 3 - 5 Working Days1
Garuda Propeller Beige/Black/White (V2)
Fruit of the Loom. Black/White print on Beige T-shirt. Available in L, XL and XXL. Please select your size in the checkbox below:
incl. VAT and free shipping to selected countries
Free shipping to the following countries: Albania, Andorra, Austria, Belarus, Belgium, Bosnia and Herzegovina, Bulgaria, Cyprus, Serbia and Montenegro, Switzerland , Croatia, Czech Republic, Denmark, Estonia, Faroe Islands, Finland, France, Georgia, Gibraltar, Greece, Hungary, Iceland, Ireland, Italy, Latvia, Liechtenstein, Lithuania, Luxembourg, Macedonia, Malta, Moldova, Monaco, Montenegro, Montserrat, Netherlands, Norway, Poland, Portugal, Romania, Russia, San Marino, Slovakia, Slovenia, Spain, Svalbard and Jan Mayen, Sweden, Turkey, Ukraine, United Kingdom, Vatican City Show more Show less
soon available again / ausverkauft, in produktion
Horten Black/White
Fruit of the Loom. White print on Black T-shirt. Available in L, XL and XXL. Please select your size in the checkbox below:
incl. VAT and free shipping to selected countries
Free shipping to the following countries: Albania, Andorra, Austria, Belarus, Belgium, Bosnia and Herzegovina, Bulgaria, Cyprus, Serbia and Montenegro, Switzerland , Croatia, Czech Republic, Denmark, Estonia, Faroe Islands, Finland, France, Georgia, Gibraltar, Greece, Hungary, Iceland, Ireland, Italy, Latvia, Liechtenstein, Lithuania, Luxembourg, Macedonia, Malta, Moldova, Monaco, Montenegro, Montserrat, Netherlands, Norway, Poland, Portugal, Romania, Russia, San Marino, Slovakia, Slovenia, Spain, Svalbard and Jan Mayen, Sweden, Turkey, Ukraine, United Kingdom, Vatican City Show more Show less
less than 3 on stock
shipping within 3 - 5 Working Days1
Fieseler Black/White
Fruit of the Loom. White print on Black T-shirt. Available in L, XL and XXL. Please select your size in the checkbox below:
incl. VAT and free shipping to selected countries
Free shipping to the following countries: Albania, Andorra, Austria, Belarus, Belgium, Bosnia and Herzegovina, Bulgaria, Cyprus, Serbia and Montenegro, Switzerland , Croatia, Czech Republic, Denmark, Estonia, Faroe Islands, Finland, France, Georgia, Gibraltar, Greece, Hungary, Iceland, Ireland, Italy, Latvia, Liechtenstein, Lithuania, Luxembourg, Macedonia, Malta, Moldova, Monaco, Montenegro, Montserrat, Netherlands, Norway, Poland, Portugal, Romania, Russia, San Marino, Slovakia, Slovenia, Spain, Svalbard and Jan Mayen, Sweden, Turkey, Ukraine, United Kingdom, Vatican City Show more Show less
less than 3 on stock
shipping within 3 - 5 Working Days1